Medway Maritime Hospital gives children separate A&E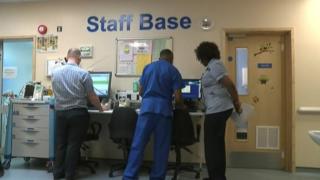 A dedicated emergency department for children has opened at a Kent hospital.
The A&E at Medway Maritime Hospital in Gillingham is undergoing a £13m revamp and the children's unit was the first phase of the redevelopment.
The hospital was placed in special measures in July 2013 but a new management team has said they have begun to turn performance around.
Chief operating officer Morag Jackson said the trust would be in a stable position by next spring.
"We'll get to a position by April 2016 where we're in a stable position and by stable we mean that we will be able to hit all of the targets," she said.
She said it was well known the trust had not met targets in the past but there had been improvements over the past six months.
"We've gone from being one of the worst trusts in the country for patients waiting for the four hours in the emergency department, to at times being within the top 20%."
The new children's emergency department has a separate entrance, three additional treatment bays, and new consultant examination and treatment rooms.
The aim was to give children more privacy and dignity and make hospital visits less stressful for parents, relatives and carers.