Mariola Cudworth case: Missing bags and phone sought by police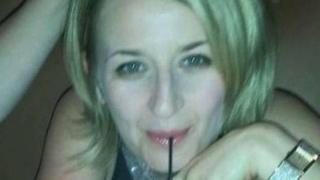 Two handbags and a mobile phone belonging to a woman whose body was found in a Kent field are being sought by police.
Mariola Cudworth, 36, known as Mijka went missing from her home in Northbourne in Deal on 28 April.
Her body was found in a field on Dover Road in Eastry on Monday. Her husband has been charged with murder.
An appeal has been issued by detectives trying to find a small black handbag, a black holdall and a silver iPhone 6.
The small black leather handbag is about 6in (15cm) long, with a shoulder strap. It has two zips, one of which may have been broken, Kent Police said.
The larger bag was a black leather holdall-style bag, with one zip.
The silver mobile phone had no protective case. It has a passcode set, and the lock-screen displays a photo of Ms Cudworth and her children, police said.
Det Insp Richard Vickery said: "We have received information that suggests Mijka's property may have been discarded in the sea by Deal Pier."
Jonathan Cudworth, 34, of Northbourne in Deal, Kent, has been charged with murder and is due to appear at Canterbury Crown Court on 2 November.