Kent youth PCC role 'to be replaced by advisory group'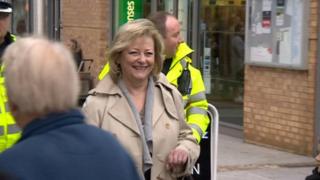 The controversial post of youth police and crime commissioner (PCC) for Kent is to be replaced with an advisory group, under new plans.
Police and crime commissioner Ann Barnes had created the job to represent young people's views on policing.
Kerry Boyd and Paris Brown both became youth PCCs, but found themselves at the centre of investigation.
Mrs Barnes's proposals will be looked at next week. A panel member and an MP both said it was the right move.
'Poorly advised'
Craig Mackinlay, South Thanet's Conservative MP, said he could never really understand the focus of the youth commissioner.
He said: "I think she was poorly advised that this would be a great wheeze for the media, it would have loads of positive column inches, and it never really happened.
"There are other ways of connecting really positively with the youth, and I don't think this role was ever going to achieve that."
Don Sloan, a member of the Kent and Medway Crime Panel, said: "It is a move in the right direction.
"To have a single youth in charge as a youth commissioner is really rather a lot of responsibility for one person."
The youth commissioner post is not compulsory and other counties do not have youth commissioners.
The BBC asked Mrs Barnes for an interview, but she referred inquiries to her press office which has yet to respond.