Medway Council tattoo hygiene rating scheme launches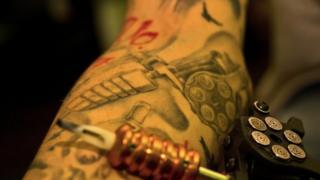 Tattooists in Medway are being given the option of signing up to a hygiene rating scheme.
Studios who sign up to the council's voluntary star system will be given signs to display in their windows informing the public of their score.
As tattoos breach the skin, dirty equipment could cause infection or transmit disease.
But registered tattooists say it is illegal "scratchers" working from home that are the real problem.
Medway Council hopes the system, which began on Monday, will give people confidence that artists are well-trained and running a clean, safe business.
A spokesman said there were about 30 licensed premises in Medway and the council was writing to tattooists about the free scheme.
He said it was hoped that members of the public would question studios who did not display the hygiene rating, and take their custom elsewhere.
Councillor Peter Hicks said it would also allow the council to "drive up standards of those who may not yet be operating at the required level".
'Scarred for life'
Premises will be scored annually in a similar way to the food hygiene rating scheme.
The scoring system will be from one to four, with one being the lowest and four being rated "Very Good".
But studio owner Chris Bloomfield said: "It won't address the scratcher problem - people working illegally from home.
"We need to see them more actively tracked down and prosecuted by local authorities."
Studio owner Mike Prentice agreed. He said many people tattooed at home are underage.
"I had a 14-year-old girl come in once with a field of stars round her neck. They were awful. If I had thrown ink at her I could have done a better job," he said.
"There was nothing I could do to help that young lady. She is scarred for life."
But Medway Council's Samantha Jordan said action on so-called "scratchers" was next on the agenda.
"We are going to be rooting them out and making sure they don't operate again."
Tattooists, those carrying out cosmetic piercing and semi-permanent skin colour, and their premises, are required to be licensed by their local authority.