Forty cars alight at Ashford scrap metal yard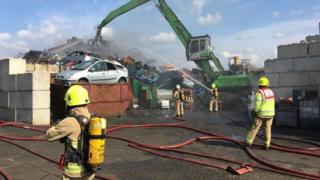 A stack of 40 vehicles caught fire at a scrap metal yard with cars, metal and tyres producing thick plumes of smoke.
About 50 firefighters were sent to Ellingham Way in Ashford, where the fire broke out just after 09:20 BST. They brought the blaze under control about six hours later.
Crews used pumps to take water from the East Stour River to fight the blaze as well as using five jets.
Kent fire crews said getting access to the source of the fire was difficult.
Firefighters brought in machinery to break up the stack in order to stop the fire spreading and bring it under control.
It is thought the industrial estate blaze began as a "deep-seated fire" involving several vehicles and tyres.
Kent Fire and Rescue Service later said 80 sq m of scrap metal and cars were alight, with more than 40 vehicles involved.
Eyewitness Dan Elliott said he saw dense, black smoke "about a mile high".
He said: "It just changed pretty quickly from a little, normal fire to just massive in about 10 minutes."
Firefighter Russ Jordon said it was thought the fire started by accident.
He said: "I don't know the details but I think it was just one of those things where one of the cars spilled some petrol and it was ignited, but I don't know how."
He said the cause of the blaze would be confirmed later.
Residents nearby were asked to keep doors and windows closed because of the smoke.