Dartford's Darent Valley Hospital 'failing in MRSA control'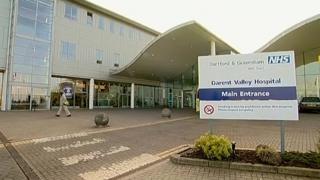 Darent Valley Hospital in Dartford has the highest rate and number of MRSA cases for NHS trusts in England.
It was shown to have failures in infection control after an inspection by the NHS Trust Development Authority (TDA).
There were 14 cases of patients being infected by the superbug between 1 April last year and 29 February.
Dartford and Gravesham NHS Trust said there were no new MRSA cases in March and the situation was being monitored.
Basic failures found during an inspection last month included poor hand hygiene among staff, and clinical waste bins wedging open doors on isolation wards.
Staff were also not wearing proper protective uniform, and clean linen stored on infected wards was being taken back to linen stores at the end of the day.
The TDA also found the infection prevention and control nursing team were not clear about best practice, and the trust had not acted on previous advice received about MRSA cases.
The trust said it had called in the authority for "support and to review practices and procedures" following a rise in MRSA cases at the end of last year.
Ali Stroman, director of nursing, said: "It's a very critical report, but that's what we wanted.
"We wanted someone to come in and give us a fair assessment of what was going on.
"Unfortunately our infection control team has been lacking in the last year... which has meant that our surveillance of infection controlled practices hasn't been what it should have been."
The trust said it had now put in place a range of measures to reduce the risk of infection including the reintroduction of universal screening of all patients, body washes with anti-microbial shower gel for all inpatients, and an increased emphasis on hand hygiene.