Margate naked video: Talks over prosecuting care worker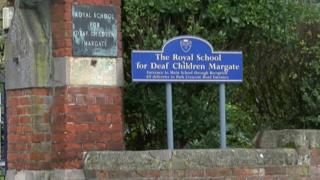 An MP has held talks to see if a prosecution can be brought after video showed a carer dancing naked around a deaf and blind man at a care home.
Footage showed staff drinking, stripping and swearing while at work at the now-closed Thanet Lodge in Margate.
Kent Police had looked at the video but found the actions did not fit criteria for a specific criminal offence.
MP Craig Mackinlay, who organised the Westminster meeting, said it could be "an outrage to public decency".
The National Deaf Children's Society which has made calls for a government review into the incident was among the organisations attending - along with Kent Police, the Care Quality Commission and several charities including the NSPCC and Action for Hearing Loss.
"I would have thought there is a possibility for an outrage to public decency, which is a common law offence, which is somewhat more unusual but you do see them quite regularly," Mr Mackinlay said.
But a Kent Police representative told the meeting it had scrutinised the video "second by second" and could not prove any specific offence in law.
South Thanet's Conservative MP said he was also looking for answers about what went wrong and about how residents in other institutions could be safeguarded in the future.
Four people lost their jobs in September 2014 after a whistleblower handed in the footage.
They were team leader Yvette Surrage, support workers Jane Smith and David Gardiner, and senior support worker Ben Healy, who filmed the incident.
Ms Smith was seen dancing naked around the young disabled man. It is not clear whether Mr Gardiner was in the room when Ms Smith did this.
Ms Surrage was seen dancing semi-clothed in the footage.
When they responded to the BBC, Ms Surrage said there was no conviction or prosecution because no young adults were involved, Mr Gardiner said he felt the incident brought no harm to the students, Ms Smith said she deeply regretted what had happened, and Mr Healy said there was no footage that displayed him acting inappropriately.
Thanet Lodge was a boarding house and part of the John Townsend Trust which ran the Royal School for Deaf Children and its post-16 department Westgate College, but they closed in December after the trust went into administration.
Last week, the Care Quality Commission (CQC) revealed there had been institutionalised failings and abuse at the residential accommodation attached to Westgate College, which it ordered the trust to close down last November.