Parents fight plans to turn Canterbury grammar into academy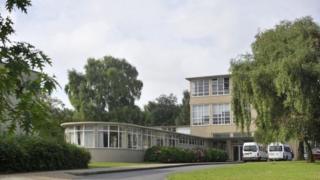 Parents have launched a fight to halt proposals to turn a Kent grammar school into an academy.
More than 1,000 people have signed a petition against plans to remove Simon Langton Girls' Grammar School (SLGGS) in Canterbury from local control.
The school wants to change status and form a trust with Spires Academy but some parents fear the change is being rushed and are seeking legal advice.
SLGGS said the move would give it greater freedom to drive improvements.
'Legal advice'
Richard Davis, whose daughter attends the school, said: "I think they are considering it for the wrong reasons."
He said the decision to proceed was made by the governing body last November, but parents were not told until March.
"Its been rushed through at a terrible pace," he added.
He described the consultation meeting as a "bit of a sham" because of its timing and the amount of publicity it received.
Mr Davis said parents were also seeking legal advice to find out how they could "intervene" in the process.
'Greater freedom'
Under the proposals to change status, SLGGS would remain selective and create a multi-academy trust (MAT) with Spires Academy in Canterbury. More partner schools could be added in future.
The school said being an academy would give it "greater freedom to spend our money where we think it will most benefit our students".
In a statement, the school's governing body said "every response" to its consultation of parents and staff would be considered and it had extended that period from six to eight weeks.
"We have already held one parent meeting which was adequately publicised on the website, by personal email and in the newsletter and we have already received a large number of responses to all the information that is on our website," it continued.
"We do want everyone who has a view to write to the GB [governing body] at the school, so that all can be taken into consideration."