Halstead boiling water raid victims 'had life changing ordeal'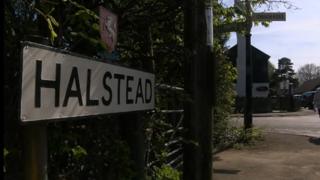 A couple who were doused in boiling water and beaten during a raid at their home endured two hours of torture, their family says.
The man and woman, aged in their 60s, suffered "life-changing" injuries during the attack in Halstead, Kent.
One relative, who did not want to be named, told the BBC three kettles of water were poured on the woman.
The victims were also told family members would be killed if they did not give the gang what they wanted.
'Can't get away'
"[The man] gave them everything he had. And then they said there's more. He was saying, 'There's no more," the relative said.
She told BBC South East the woman was burnt on her back, front, arms, face, and neck and remains in intensive care. Her husband was less seriously injured, but also remains in hospital.
"He's faring better. He's got a long way to go but we're just praying that she pulls through this," the relative continued.
"They can't get away with this. They can't go on to do this to anyone else."
The break-in happened at a house off London Road, at 21:00 BST on 26 April.
The three male suspects fled the scene with a "quantity of cash" at about 23:00.
One was black and about 5ft 10in (1.7m) tall. The other two were white.
'It's just horrendous'
All three wore dark clothing.
"It's so important for our family to be able to move on... how can we feel safe with people like this around?," the relative continued.
"We can't be normal - our lives have changed from that day.
"The whole of the family is just on shut-down. It's just horrendous."
Kent Police said they were treating the attack as an isolated incident, and have appealed for anyone with information to contact them.