Toxic algae found in Dartford lake after three dogs died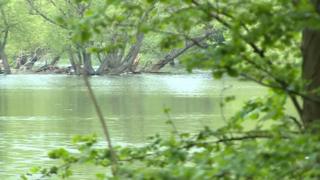 Toxic algae has been detected in a fishing lake after the deaths of three dogs believed to have drunk from it.
Brooklands Lake in Dartford, Kent, has been closed to the public while tests were carried out.
Poisonous blue-green algae was found in water samples, the Environment Agency said, and additional tests were planned.
Dartford Borough Council said the material was "potentially harmful to humans and toxic to animals".
There was nothing it could do to remove the algae or stop it growing, and the lake would remain closed to the public until further results were known, the authority said.
The dead dogs were among ten, being walked by a minder, which had been drinking from the water.
'Suddenly toxic'
Vets treating the seven surviving dogs said the algae produced a potential toxin at this time of year and throughout the summer.
Emily Brady of Parkvets surgery in Sidcup said water which was previously safe could suddenly become poisonous.
Initial animal symptoms, which include muscle tremors, vomiting, diarrhoea and seizures, can lead to death in as little as 15 minutes.
Lindsey Olney's six-month-old boxer puppy, Stanley, was one of the dogs which died after having fits.
Ms Olney, from Bexleyheath, said she was "devastated and heartbroken".
People were also advised to stay away from the lake in 2013 when blue-green algae was found.