Margate deaf school abuse: MP Craig Mackinlay seeks urgent reforms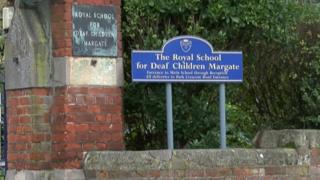 Abuse at a specialist school for the deaf was so severe that urgent reform of care is needed for the "extremely vulnerable", an MP's report has said.
The Royal School for Deaf Children and its post-16 unit Westgate College in Margate, Kent, closed last December.
Mobile-phone footage later showed carers drinking, stripping and swearing in front of vulnerable residents.
Claims in the report by local MP Craig Mackinlay include staff taking "Motability cars on booze cruises".
The report was compiled by the South Thanet Conservative MP after he convened an emergency summit where experts discussed incidents at the school, run by the John Townsend Trust.
The Care Quality Commission (CQC) ordered the trust to shut down residential accommodation attached to the college on 19 November last year, and the trust went into administration at the end of December.
A spokesman for the trust questioned the conclusions reached in Mr Mackinlay's report, and described it as "one-sided".
Staff lost jobs
The CQC said in April that it had found "shocking examples of institutionalised failings and abuse" at the residential accommodation attached to Westgate College, with residents "physically harmed by the very people who should have been caring for them".
The BBC then obtained footage filmed during an alcohol-fuelled party at Thanet Lodge boarding house, part of the John Townsend Trust.
Four people lost their jobs in September 2014 when a whistleblower handed in the video.
Mr Mackinlay's report contains allegations of "further serious, credible, claims" from the family of a boy abused in the footage, along with allegations from several additional affected families.
These include claims that staff took a Motability car belonging to a disabled resident to France and Belgium with family members to buy alcohol and cigarettes.
A staff member who came forward with the information said it occurred on at least two occasions and they were aware of the alcohol and cigarettes then being sold on to senior managers within the trust.
'Money stolen'
About £2,500 was also allegedly stolen from a resident.
The report calls for a change to criminal law to ensure those who fail in their duties of care face proper justice, and for the establishment of a "national care commissioning authority for the extremely vulnerable".
It also calls for greater powers to be given to the CQC and Ofsted, and that "committed candidates" are put into care jobs for the extremely vulnerable.
Mr Mackinlay said he wanted "to try and lay out a framework where we prevent these things from happening in the first place".
He added: "Parents were appalled... their loved ones were supposed to be in places of safety."