Row over Kent and Medway private ambulance staff lost vetting forms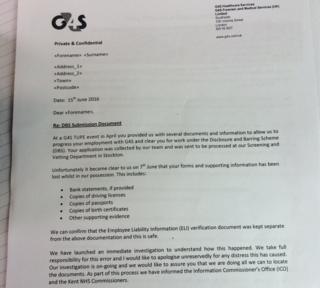 Vetting forms for more than 100 private ambulance workers - including bank statements and copies of passports - have been lost while being transferred between contractors.
In a letter, G4S told the Kent workers their data had been lost "whilst in our possession" and an immediate investigation had begun.
The service is being transferred from previous provider NSL to G4S.
After the data loss, a row emerged with G4S and NSL blaming each other.
The workers affected have been offered identity fraud protection.
The letter to employees said the information also included copies of driving licences and birth certificates and other supporting evidence.
'Thief's Christmas'
A G4S spokesman said the documentation was last seen on a secure NSL site.
He said: "We believe the documents to still be on that site or to have been shredded. Until we have full access in two weeks' time, we have taken the precautionary measure of writing to staff involved.
"While we can guarantee that there will be no impact on patient service or safety, we cannot rule out the possibility that the information has been deliberately withheld or mislaid."
But an NSL spokesman said: "The documents were collected by G4S and sent for processing at the G4S Screening and Vetting Department in Stockton.
"None of the documentation was left or returned to any NSL site.
"We were informed earlier this week that personal information and documentation for some employees had been lost whilst in G4S's possession and they have accepted full responsibility."
Simon Bolton, regional organiser for the public sector union Unison, said it was "a data thief's Christmas, new year and birthday all come at once".
He said: "The worry is G4S are not saying where this stuff has gone. They can't tell people where it's gone so people have got to assume the worst."
Kent and Medway's patient transport service was operated by NSL and the contract was last year handed to G4S.
The DBS Service replaced the Criminal Records Bureau (CRB) scheme in 2012.