Motorcyclist killed in double collision at Newingreen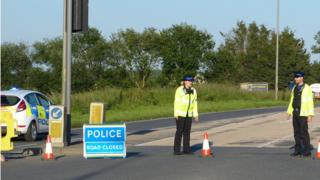 A motorcyclist has died in a double collision on a busy road near Folkestone.
The 26-year-old man was declared dead at the scene after his white Honda collided with a 4x4 vehicle and then a parked lorry on the A20 at Newingreen.
The accident happened at 12:20 BST on Friday, in Ashford Road, near Red House Farm, north of Hythe.
Kent Police are appealing for witnesses to the accident or for anyone who saw the vehicles just before it happened.