A20 Dover speeding driver fines ruled unlawful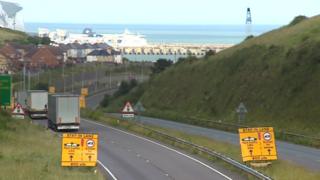 Hundreds of drivers caught speeding on a stretch of road leading to the UK's busiest port may get their fines overturned following a legal ruling.
A judge has upheld a challenge by retired solicitor Sandra Upton, who was herself fined, that the 40mph order last year was incorrectly worded.
He ordered that Mrs Upton and another motorist should be found not guilty of the offence, on the A20 near Dover.
More than 1,600 other drivers may now also have their convictions rescinded.
The ruling focuses on a period between June and December 2015, before the wording on the order was corrected.
At Folkestone Magistrates' Court, Judge Justin Barron ruled that ambiguities in drafting the speed limit order rendered it invalid.
He said in his judgement that it could apply to more than 1,600 cases during that period.
Mrs Upton, from Kingsdown, near Deal, who was caught travelling at 51mph, and Dover MP Charlie Elphicke want Kent Police to contact all those motorists to arrange refunds, which could amount to £200,000.
Mr Elphicke said: "We've had a court ruling that the fines are not lawful. The right thing to do would be for Highways England and Kent Police to get in touch with the people who have been wrongly fined and make sure they're refunded."
In a statement, Highways England said: "The 40mph speed limit on the coastbound A20 is clearly signed and it is important that drivers observe the speed limit and drive safely."
Kent Police said any appeals would be dealt with case-by-case.