Dreamland operator Sands Heritage has debts 'over £14m'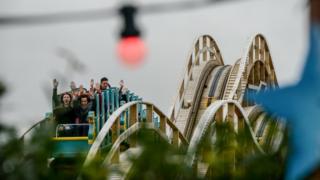 Margate's Dreamland amusement park has racked up debts of more than £14m and is likely to end up being sold, according to administrators.
Operator Sands Heritage called in administrators Duff and Phelps in May - 11 months after the attraction reopened following an £18m revamp.
A report lists various setbacks involving owners Thanet District Council.
It declined to discuss the details before creditors met on Thursday.
Figures showed Dreamland had total liabilities of £14.3m.
The report said the attraction would continue to trade during the 2016 summer season.
The report, a statement of administrator's proposals to be put before creditors on Thursday, said: "A sale of the business and assets of the company is likely to be the eventual outcome of the administration, however, an immediate sale is not being pursued."
It set out events leading to Dreamland going into administration.
When the operator took over the park from Thanet council in 2015, the company also took over delayed building works - leading to significant costs to the company and summer closures of Dreamland and the Scenic Railway, the report said.
Further delays by Thanet council in handing over areas adjacent to the park also brought cash flow problems in April 2016, it added.
That Easter, delayed certifications, bad weather and train engineering works reduced footfall, the report said.
And it said the company's cash position continued to deteriorate and administrators were called in that May.
Thanet council said the creditors' meeting was part of the administration process and, as a creditor, the council would be part of this.
A council spokeswoman said: "The council has been provided with assurances that the administrators are assessing all available options for the company and Dreamland Pleasure Park and that they are certain there is a bright future for Dreamland."
Benjamin Wiles, joint administrator, said: "The events leading up to and the circumstances surrounding the administration of Dreamland are not down to any one factor or stakeholder."
He said the administrators were working closely in collaboration with Thanet council and other stakeholders to improve and secure the future of Dreamland.
In a separate development, Dreamland's main attraction, the Scenic Railway, is currently closed for repairs.
A spokeswoman said the rollercoaster needed a new lift rope, which had to be done by a specialist, and engineers were working to get the ride "up and running asap".