Kent's Operation Stack lorry park plans released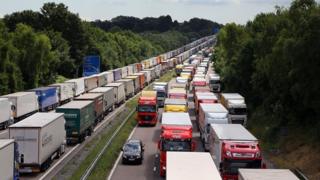 Plans for a lorry park designed to ease tailbacks caused by Operation Stack have been released.
The site of the 3,600-space park, in Stanford West, Kent, was announced as the preferred location last month.
Views are now being sought by Highways England on its design and consultation will run until 23 September.
During Operation Stack, which was in force 32 times last summer, up to 5,700 lorries can be parked on the M20.
The aim of the scheme is to reduce congestion on the motorway.
Project director Adrian Sheppard said: "This is a solution to the problems caused by Operation Stack that has been talked about for decades, but on which we have made a great deal of progress in less than a year."
He added: "We have been working hard to refine our plans and are now keen to hear what people think."
The site is near Eurotunnel and Dover port and has sufficient land, minimal impact on local roads and easy access to the M20, the document says.
But it says challenges include that the site lies between Sellindge and Stanford villages and is next to some residential properties. A bridge would also need to be built as the site is bisected by the motorway.
The government has committed up to £250m for the scheme.
Campaign to Protect Rural England (CPRE) has objected to the plans, which it says would damage the countryside.
What is Operation Stack ?
Stretches of the M20 in south-east Kent are used to park freight bound for the Channel Tunnel or the Port of Dover
It is implemented when a cross-Channel service is disrupted by bad weather, fire, operational problems, industrial protests or migrant action at Calais
Introduced as temporary measure in 1988, it has been used 48 times between 1997 and January 2015
It typically lasts for five or six days