Margate Dreamland boss Eddie Kemsley to quit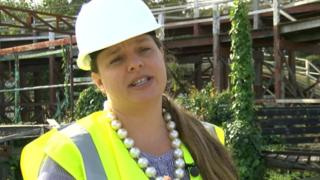 The boss of troubled amusement park Dreamland is leaving 14 months after the attraction opened following a £18m restoration.
Chief executive Eddie Kemsley, who took up the role in November 2013, is leaving for a new job at a children's visitor attraction in London.
The theme park, in Margate, which has debts of more than £14m, went into administration in May but remains open.
Ms Kemsley said opening the re-imagined Dreamland had been "an honour".
"Building a team of predominantly local people to make the dream a reality has been the highlight of my career," she said.
"At times, it's been a hard, emotional journey with many bumps in the road but every challenge we have faced has been worth it."
The park, which has a number of vintage fairground rides, opened without its Scenic Railway star attraction which was not ready.
It was up and running later in the year, but was closed again earlier this month for repairs.
Dreamland said it broke all records since its reopening on 16 July, with more than 10,000 people visiting the park.
Following Ms Kemsley's departure the attraction will be run by Benjamin Wiles and Paul Williams from the administrator, Duff and Phelps.
"We wish Eddie the greatest of success in taking on her new role and would like to thank her for her hard work and dedication," said Mr Wiles.
"Her tenure as CEO has significantly contributed to the regeneration of Margate."