Dreamland theme park creditors 'to get 25%'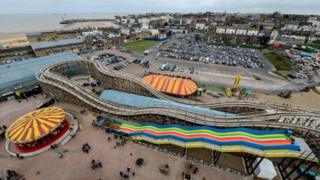 Businesses owed thousands of pounds after investing money and resources in Kent's Dreamland amusement park will receive 25% of what they are due.
Sands Heritage Ltd, which operates the Margate park, went into administration last year and businesses that invested in the attraction were left unsure if they would ever get their money back.
A leaked document has revealed hundreds of creditors will remain out of pocket.
A Dreamland spokeswoman said it was seen as "the most beneficial outcome".
'Business to grow'
She said a formal procedure known as a Company Voluntary Arrangement (CVA), which enables a company to agree how to pay debts, had been proposed.
"The proposal will see a return of approximately 25p in the pound to our pre-administration creditors," she said.
"The joint administrators did not believe that the other options open to them would have resulted in a material return of cash to creditors and, therefore, believe that this is the most beneficial outcome for creditors."
The proposal was tabled at a meeting of creditors and all votes were in favour of it, she added.
She said there were further stages to go through before the CVA outcome was certain.
But she added the CVA was a positive development that would help the company take control of the park's future and growth of the business.
The company has nearly £6m of unsecured debt.
A large chunk of that, £3.8m, lies with Arrow Grass, an offshore hedge fund, which loaned the operator money to make improvements at the park to get it ready for sale.
The remaining money is owed to third-party unsecured creditors, including investors, caterers, drinks and food companies, who operated in connection with Dreamland.
They will only recoup a total of £600,000, which after costs and expenses equates to 25p for every £1 invested.