Sheerness ship protest: Five arrested after Greenpeace demo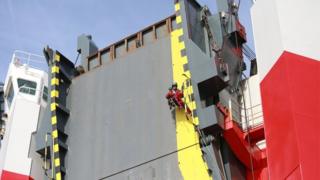 Five people have been arrested after a Greenpeace protest saw activists climb aboard a ship carrying VW diesel cars.
Two men and a woman were apprehended at Sheerness port on Thursday after 40 people removed thousands of keys from cars in the port's import park.
Kent Police said two more women were arrested on suspicion of aggravated trespass on Friday. They were being held in custody.
Volkswagen said the keys had since been returned.
On Thursday, police arrested a man, 51, from Epsom, Surrey, on suspicion of aggravated trespass.
A woman, 36, from Stoke Newington, London, and a man, 46, from Cleveley, Oxfordshire, were also arrested under the Merchant Shipping Act 1995 on suspicion of entering a vessel.
All three were bailed until 19 October.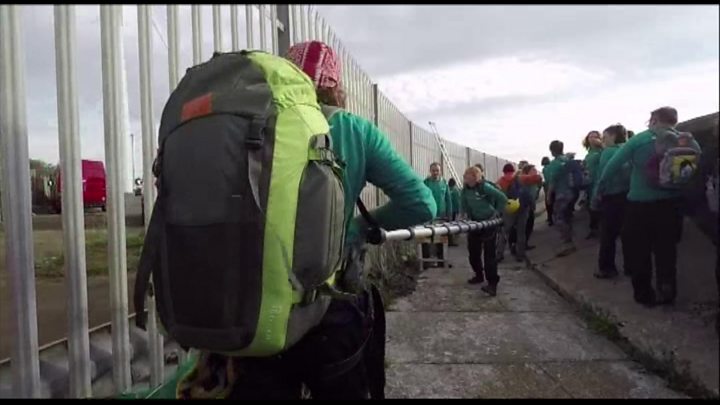 Greenpeace said the ship had been delivering vehicles to the vehicle park at Sheerness, where several thousand VW diesel cars were awaiting distribution to suppliers.
The ship, the Elbe Highway, left Sheerness after the protest on Thursday and was anchored off Margate before it returned on Friday to dock at Sheerness.
The group had wanted Volkswagen to agree to return the cars to Germany, but campaigners claimed they had forced the 23,000-tonne ship cargo ship to turn round on Thursday.
Peel Ports, which owns Sheerness port, confirmed Greenpeace protesters had illegally entered secure areas.
In a statement, a Volkswagen spokesman said the ship contained a variety of Volkswagen Group vehicles, including petrol, diesel and plug-in hybrid models.
He said: "The diesel vehicles, which are the subject of the protest, meet strict Euro-6 standards."
In September 2015 VW admitted to US regulators it had cheated on emissions tests there using software installed in as many as 11 million diesel vehicles sold worldwide - the majority of them in Europe.
In March the company pleaded guilty to conspiracy to commit fraud, obstruction of justice and entry of goods by false statement as part of a $4.3bn (£3.5bn) agreement with the US regulators over the scandal.