Pilot admits aircraft £2.5m cocaine drop over Kent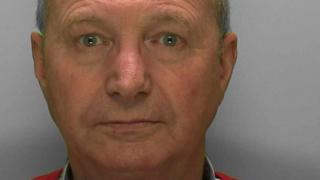 A pilot who dropped £2.5m of cocaine from his aircraft over countryside in Kent has been jailed for 14 years.
Rudi Sels, 65, of Balen, Belgium, was part of a plot to smuggle more than 68lbs (31kg) of the drug into the UK.
National Crime Agency officers watched him assess the drop site with other smugglers in advance, the Old Bailey heard.
Sels was extradited after the drop in June 2016, after which fuel canisters containing the drug were seized.
Three British men were jailed in January for their part in the plot.
The court heard police found the canisters inside the men's Land Rover which was being driven to a builder's yard in Faversham.
Sels had earlier pleaded guilty at the Old Bailey.
Andrew Barrett, 42, of Leighton Buzzard, Bedfordshire, was jailed for 16 years, Michael Mealing, 42, of Corsham, Wiltshire, received 12-and-a-half years, and Jonathan Hart, 61, of no fixed address, was handed 10 years and nine months at the Old Bailey.
Prosecutor Adrian Flasher said Sels was under surveillance when he met two of the British plotters at the Golden Lion pub in Rochester.
He was then seen loading his plane in Belgium, bound for Le Touquet in France.
Officers from the NCA observed canisters wrapped in tape dropped out over Kent and picked up in a Land Rover.
All three of the British men were arrested within hours of picking the cargo up on 23 June 2016.
Defence lawyer Rupert Hallowes, told how Sels had had a "colourful career" as a top helicopter pilot.
He claimed to have flown dignitaries around the world and during the Cold War had been sent on secret missions with the SAS.
The defendant, whose wife died eight years ago, retired on an army pension but continued to fly commercially.