New Canterbury A&E 'hospital for homes' offer to be assessed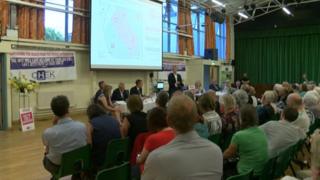 Plans for A&E services, including an offer to build a new hospital in return for planning permission for 2,000 homes, are to be "assessed".
A health commissioning group is considering two options for three hospitals in east Kent, including one for a new hospital in Canterbury.
The commissioners are also looking at six options for inpatient orthopaedic care at the three hospitals.
The proposals are due for public consultation later next year.
Currently, the East Kent Hospital University NHS Foundation Trust's three main east hospitals - Kent and Canterbury (K&C) Hospital in Canterbury, William Harvey in Ashford and the Queen Elizabeth The Queen Mother (QEQM) in Margate - each provide different services.
Changes to emergency services at K&C means some patients are now forced to go to Margate or Ashford.
Developer Quinn Estates is behind the offer to build a new hospital which would be linked to the K&C.
The option would include:
A new building, complete with link roads and parking, connected to the current K&C
A&E and specialist services currently at QEQM and William Harvey ceasing to operate
QEQM and William Harvey operating solely as 24-hour GP-leading centres for diagnostics - such as X-rays and scans - a day surgery, outpatient services and rehabilitation
The plan does not include providing the equipment needed inside the new hospital.
The other option would see QEQM and William Harvey reorganised into two emergency care centres, the latter with specialist services. K&C would be a 24-hour GP-led centre.
The joint committee of East Kent Clinical Commissioning Groups (CCG)s has announced the two options will be considered by NHS staff, patient and public representatives before the public consultation.