Millions to be spent on River Medway flood defences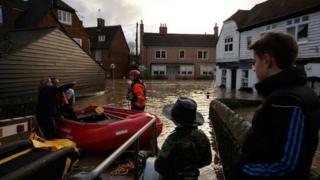 More than £19m is to be spent over five years to reduce the risk of flooding along the River Medway.
About 900 homes were flooded in December 2013, when prolonged rain caused the river to overflow.
The measures are designed to help protect 9,000 properties over the next 25 years, the Environment Agency said.
Measures are being introduced on land draining into the rivers Medway, Beult, Teise, Bourne and Eden, as well their tributaries, the agency said.
River channels and flood defences, such as flood walls, sluices and weirs, will be maintained at a cost of about £1m each year, the Environment Agency said.
Capacity is set to be increased at the Leigh barrier near Tonbridge.
About 300 homes will receive protection equipment including flood barriers across doors and windows in Yalding, Collier Street and Laddingford.
An Environment Agency spokesman said: "We are looking at where we can build defences to better protect communities as well as where we can slow the flow of floodwaters and reduce flood levels through natural flood management.
"Where it is not possible to prevent flooding, we are working with local communities to help them be better prepared and resilient to flooding so that they can recover more quickly after a flood."