Rochester homeless man tipped into bin lorry by workers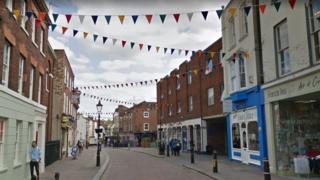 Recycling workers tipped a homeless man into a bin lorry, and only realised when they heard the sound of his screams from inside.
Veolia staff emptied the large communal bin outside an Italian restaurant in Rochester High Street, Kent, unaware the man was asleep inside.
Amber Gilbert from homeless charity Medway Street Angels said he quickly started to scream as the machine began "crushing him a little bit".
Veolia said it was very distressing.
'Nasty awakening'
A spokesman added: "The team immediately halted operations, called the emergency services and supported him until an ambulance attended the scene.
"Our thoughts are with the gentleman concerned.
"The Veolia crew followed our Sleepsafe procedure that protects people who sleep in bins but unfortunately the injured person did not wake and he was obscured by carpet wrapped around him to keep him warm.
Ms Gilbert added: "We have heard of this happening before but not for a very long time. That's why locks were introduced on these bins, but for some reason this bin was not locked so he's managed to go in there, fall asleep and have a nasty awakening."
Firefighters released the man shortly after 08:00 GMT and handed him to the care of South East Coast Ambulance who took him to Medway Maritime Hospital with injuries to his leg.
The charity is now investigating why he was asleep in the bin, when nearby charity One Big Family had a shelter open for the night.