Fergus Wilson's law suit over 'offensive' YouTube video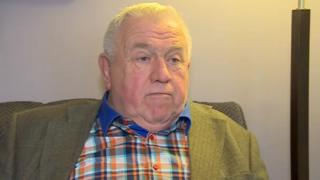 A buy-to-let tycoon who banned Indian and Pakistani tenants has threatened to sue a YouTuber who criticised him.
Fergus Wilson's policy, which he said was "because of the curry smell", was declared illegal last year.
Danny Hyde posted a video blog objecting to Mr Wilson's views, and suggested he could be seen as racist.
Mr Wilson, who denies being racist, said he will sue Mr Hyde for £10,000 due to the "grossly offensive" language in the video.
The landlord, who owns hundreds of properties across Kent, said he took particular issue with the "choice of words".
'Numpty'
He said he would attempt to sue Mr Hyde using the Malicious Communications Act.
"He is perfectly entitled to express his opinion, and it appears to be the same as what other people have expressed," he said.
What is wrong is his choice of words.
"If he thinks he's going to turn up to court and repeat those words, he's going to be in some difficulty."
In the video, which has been seen by 2,000 people since it was posted nine months ago, Mr Hyde accuses Mr Wilson of "coming across as racist".
"He insists he's not racist because he doesn't allow smoking or dogs either," Mr Hyde says in the clip.
"With that logic Wilson you... numpty, you should ban curry, not an entire race of people."
Legal commentator Joshua Rosenburg said as the act is for criminal offences, it does not give somebody the right to sue for damages.
He added: "You'd think this might be defamation, but I think Danny Hyde would say this is fair comment, he was simply commenting on what Mr Wilson had said himself... and a libel claim may just draw more attention to it."
Mr Wilson has said he will not pursue legal action if Mr Hyde edits out the offensive language from the video as an "acknowledgement of wrongdoing".