Kilimanjaro school trip cancelled after charity collapse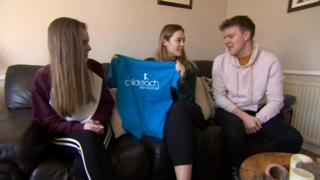 Schoolchildren in Kent have lost thousands of pounds raised for a trip to Mount Kilimanjaro after the financial collapse of a charity.
About 30 pupils from Chatham and Clarendon Grammar School, Ramsgate, had collected over £60,000 for this summer's trip to Tanzania.
Luke Payne said it was supposed to have been the "adventure of a lifetime".
Childreach International said "financial challenges" meant it had to immediately cease all expeditions.
"We regret that we are not in a position to refund any costs incurred for fundraising events," it added.
In recent years, the charity has taken 8,000 donors to Kilimanjaro in return for their fundraising.
The pupils had to raise about £3,500 each to partly fund the charity's work, with the rest to pay for the trip.
Childreach International said it had made the "difficult decision" to pause all its operations.
The travel firm, Rare Adventures, which provided logistics for the charity's trips, said it too had been forced to cease operations.
It said Childreach International was its biggest client.
Daisy Naisbitt, an 18-year-old pupil at the school, said it had shaken her faith in charities.
"It's very disappointing that a charity that seemed so good, and really wanted to offer everyone such an amazing experience, has just collapsed," she said.
Amy Coles, also 18, added: "I've seen some people break down into tears over it. They're so upset and annoyed."
The Association of British Travel Agents (Abta) said Rare Adventures was not registered with the organisation.