Kent County Council approves tax rise of just under 5%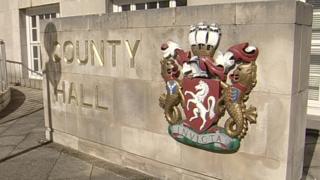 Kent County Council (KCC) has approved a tax rise of just under 5% for the coming year.
It will mean an extra £52.30 a year for households in an average band C property.
County councillors also approved savings of £53m.
The authority said its government grant had reduced by £45m but it still faced rising demand for services, particularly children's and adult social care.
It said social services now accounted for over half of its spending, with adult spending at 44% and children's at 12%.
The KCC increase includes a general rise of just under 3% (2.993%), and 2% for adult social care.
Council tax in England could rise by 3% this year, in line with inflation, before a referendum was triggered, although the largest authorities were allowed to increase it by up to 5.99%.
The council said it had faced a budget gap of £113m out of the council's net budget of about £1bn.
KCC said its plans included an additional £7.5m investment on roads, including pothole repairs.
Paul Carter, leader of the Conservative-run council, said: "Virtually every county council [has] increased council tax by the maximum, because we have no choice if we are to preserve the highly-valued front line services that we deliver."
Rob Bird, leader of the Lib Dem opposition, said: "It's very difficult to balance what you need to do now and what you need to do in the future. We have got problems mounting up.
"I think the council could be doing more now which would benefit everybody."
Analysis: Rajdeep Sandhu, BBC Radio Kent political reporter
Given the large majority of the Conservatives on Kent County Council it was not surprising councillors voted in favour of passing the budget, which included increasing council tax by almost 5%.
But there was disappointment from opposition councillors that none of the seven amendments proposed was passed. They included spending more money to combat loneliness and to improve mental health.
What remains to be seen is whether the cuts to bus subsidies - about £450,000 - can really be offset by a similar amount being invested, and which routes will be impacted on.
The leader of the council, Paul Carter, said that rather than cancelling routes the council was trying to enhance the rural bus services.