Cygnet Hospital staff member fired for sending abuse video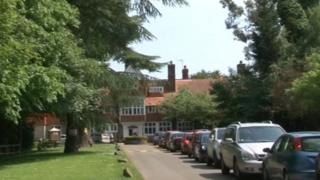 A worker at a mental health hospital that is under fire about care standards was sacked for sending a colleague a child sex abuse video, it has emerged.
The revelation came as inspectors visited Cygnet Hospital in Sevenoaks that has had three warning notices.
Cygnet Health Care confirmed the video was sent and said police were informed and the female staff member dismissed.
The company, which has 21 centres and is an NHS provider, said none of its patients were involved.
Details of the incident were set out in tribunal papers after the man who was sent the video in 2015 sued the company successfully over its handling of a grievance procedure.
'Immediately suspended'
Documents said there was no dispute the staff member had been sent what he described as "an unwelcome graphic video clip depicting sexual child abuse" from a work colleague.
In a statement, Cygnet said: "This was an isolated incident, which did not involve any patient under Cygnet's care, however was immediately reported to the appropriate authorities, including the police, who issued a caution to the individual concerned.
"She was immediately suspended and when the police investigation concluded, was subsequently dismissed.
"We take allegations of wrongdoing extremely seriously and the care of our patients will always remain our top priority."
On Monday, Anya Auckland, 17, criticised the care she received at the hospital in Godden Green.
She listed issues including feeling suicidal and "worthless", seeing a patient "dragged" on the floor, and other patients kept in seclusion for "weeks".
Sheffield Heeley MP Louise Haigh has also raised concerns about the company.
In January, the Care Quality Commission (CQC) said it undertook an urgent inspection in November at the Kent hospital following concerns about the number and severity of incidents and issued three warning notices.
Inspectors returned on Tuesday.
The CQC said it was unable to comment while an inspection was under way.