Euxton residents plagued by swarms of house flies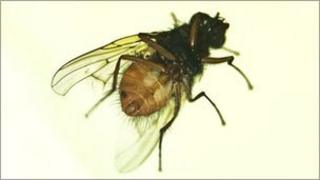 Residents of a Lancashire village are demanding council action after being invaded by swarms of flies for the second year running.
Thousands of house flies have been swarming around homes in Euxton throughout the summer.
An investigation commissioned by Chorley Borough Council last year failed to identify the source of the problem and tests are ongoing.
Villager Chris Beech said people felt trapped in their own homes.
The flies first began appearing in large numbers in July 2009, prompting almost 100 complaints to the council.
Mr Beech said his family, including son Brandon who suffers from cystic fibrosis, were effectively trapped inside their home.
"It's really bad - we can't really open our windows and doors.
"As soon as you open your door or window you've got six or seven flies flying into your house... Even when when you open your car boot they fly out of there.
"It's been like this for two years, the residents are really annoyed at the moment.
"It's difficult when the sun comes out, you can't enjoy your life, your garden."
Environmental experts were brought in to investigate last year, but could find no definitive source of the infestation.
Councillor Eric Bell, of Chorley Borough Council, said tests of manure at farms and fields in the area proved negative.
"It really is annoying, I can understand where the residents are coming from.
"Up to now the tests we've done have not proved anything positive.
"There's a lot of work gone on by the council to try to solve this problem and it's just disappointing that up to now we're not 100% sure about what it is."