Car battery sparks Lancaster Castle bomb scare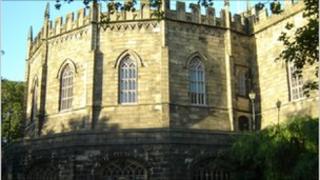 An area round Lancaster Castle was cordoned off for six hours as bomb disposal experts examined a suspicious car outside its gates.
The vehicle had a car battery on the back seat with wires on show and it had Irish registration plates, police said.
It had been left for a couple of hours in Castle Hill on Friday evening, alerting suspicion. A number of homes nearby were also evacuated.
It turned out the car belonged to an elderly man who was on holiday.
Controlled explosion
A Lancashire Police spokesman said experts used a robotic device to carry out a controlled explosion on the Renault Scenic.
Those who had been told to leave their homes were allowed to stay at nearby Merchant's Pub.
The alert ended shortly after midnight when it became clear that the vehicle belonged to an elderly man who was on holiday in the area.
The cordon was lifted and residents were allowed to return home at 0115 BST.