A year after cancer case scandal at Accrington hospital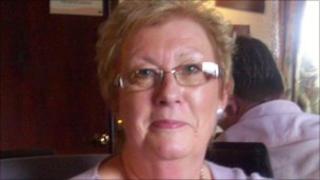 Cathy Mandziak reflects on the past year after she was one of 18 patients to be wrongly told she did not have cancer.
Mrs Mandziak, 61, was wrongly told by a radiologist at Accrington Victoria Community Hospital, in East Lancashire, that she did not have the disease.
She was given the all-clear in February 2008, despite a shadow being found on a routine mammogram three months previously.
Nine months later her consultant told her she had breast cancer and it had spread to her lymph nodes, after she went to the hospital with a lump in her breast.
She had surgery, underwent six sessions of chemotherapy and radiotherapy.
A year after the scandal broke in the media, she said she believes she will never get over the delay in her diagnosis.
And she will always wonder whether that delay led to a more severe form of cancer, and will have hampered her recovery.
Mrs Mandziak, from Accrington, said: "I just live with a big question mark hanging over me.
"In my mind if they had done a biopsy then or removed it, then that probably would have been it.
"I wouldn't have had to go through all that and be as I am now. That is something I will always wonder. I don't think that will ever go away. I don't suppose there is a way of proving it either way."
'Hands-on Nan'
Mrs Mandziak said it has also had a profound effect on her husband, Michael, son Chris, daughter-in-law Emily and three grandchildren.
"It hit everyone really hard. My husband had to pick up the pieces really.
"I was always a really hands-on Nan but then all of I sudden that had to stop."
She had to give up work as a receptionist at a chiropractor's for nine months, following her operation. She has since returned.
She said the rest of the care she received at the hospital, and subsequently at Burnley General and Royal Preston Hospital, was excellent.
When she discovered 17 other women had also been affected, she said she went into a state of shock.
She received a letter telling her she was one of the 18 shortly before the story came to light last September. The grandmother-of-three is now in remission.
Legal action
She receives regular counselling, and other support, at Pendleside Hospice in Burnley. She has also helped to set up a support group for cancer sufferers, called Mosaic.
The 18 women were among 355 cases reviewed in an independent study after all of the radiologist's breast cancer screenings in three years were examined.
An investigation was then launched after errors came to light during the review and 85 women were re-tested and 18 found to have cancer.
Rineke Schram, medical director for East Lancashire Hospitals NHS Trust, said: "On behalf of the trust I would like to say again how sorry we are for the ordeal this patient and others have suffered.
"It is unfortunately difficult to state with certainty whether delay in treatment has affected prognosis for any of the women involved."
She said the trust had commissioned another independent review of the screening and the screening programme still had an "excellent detection rate".
Ian Brandwood, director of human resources for East Lancashire Hospitals NHS Trust, confirmed that the radiologist had been suspended from duty pending the outcome of internal investigations.
He has not carried out any clinical work since April 2009.
Mrs Mandziak said she was taking legal action over the delayed diagnosis.