Lancashire's drink and drugs driving clampdown starts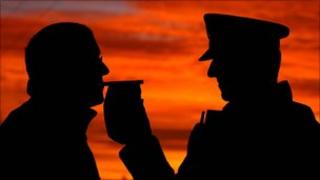 Police checkpoints are being set up across Lancashire to catch drivers over the drink drive limit or anyone taking drugs.
The police action will continue over Christmas and into the New Year.
Six of the fatal 35 fatal crashes in Lancashire this year have involved drink or drugs, police said.
Ch Supt Peter O'Dwyer said the number of drivers who had failed breath tests last year was down on the previous year but they were not being complacent.
Death risk
He added: "We want people to have fun this Christmas but to remember the consequences of driving whilst under the influence of alcohol or drugs."
"The consequences of drink driving are high, if you drive at twice the legal alcohol limit you are at least 30 times more likely to cause a road crash than a driver who hasn't been drinking, potentially resulting in serious injury or death," said Mr O'Dwyer.
In addition to the road checks, posters and beer mats, will be distributed in pubs and clubs across the county warning of the dangers of drink driving.