Wintry weather causes disruption in Lancashire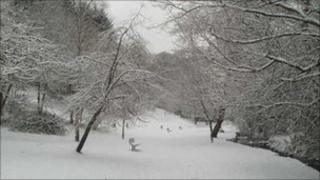 More than 30 schools have been closed in Lancashire because of the wintry weather.
The east of the county has been most affected by the snow and ice but Lancashire has escaped the extreme conditions elsewhere in the UK.
There have not been any serious problems reported on the county's transport network but police have urged motorists and pedestrians to take care.
Blackpool International Airport remains open but some flights may be disrupted.
This is due to adverse weather at other airports.
Earliest since 1993
Passengers are advised to arrive at the airport as normal.
Long-distance rail services are also disrupted due to the weather problems in other regions.
The UK has been experiencing the earliest widespread snowfall since 1993.
The unusual weather is being caused by high pressure over Greenland and low pressure in the Baltic states, forcing cold winds from the north east across Europe.
The Met Office said snowy conditions were expected to continue on Thursday but Friday should see a reprieve.