Rossendale town markets at risk due to budget cuts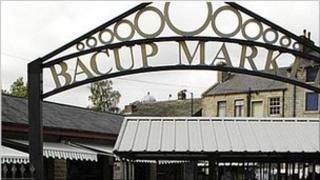 Markets in a Lancashire town are at risk as the council struggles with the government shaving nearly £3m off its budget in the next three years.
Bacup, Haslingden and Rawtenstall markets could all be affected, Rossendale Council has warned.
Council officers are currently talking with traders to get their views on the best way ahead.
"We face some very tough decisions," council leader Tony Swain said.
A two-year review into the profitability of the markets coincided with the government's comprehensive spending review.
Mr Swain did say that whatever decision was made, the markets would form part of their budget strategy for the coming year, indicating they would not be axed straight away.
"Given our current funding concerns we have to be able to justify every penny we spend and have to look at the markets in that context too," he said.
"Our priority is to protect our services, we know we have to make cuts, it's a case of making cuts but not impacting on our core services," he added.
Bacup and Haslingden are both outdoor markets, Rawtenstall is a more traditional market with an indoor market hall and outdoor stalls.