Lancashire church given radio link to police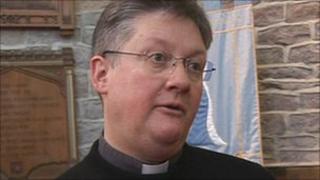 A Lancashire church has taken the unusual step of setting up a radio link with the police after minor disturbances at some services.
St Peter's Church in Darwen has joined the town's pubwatch scheme after youths began shouting abuse at the congregation during sermons.
Now it has its own radio which it can use to alert police if trouble flares.
It was given by the town's Bar U scheme, which has the power to ban troublemakers from all the town's pubs.
The walkie-talkies are normally only used by pubs and shops to alert each other about anti-social behaviour.
'Confidence boost'
Rev Andew Holliday said it was important the church was part of the scheme.
"We're wanting to create a safer environment for everybody," he said.
"Whether that's in the local pub or the church, or the local community association, it is important that we're part of that."
Sgt Mark Wilson, from Lancashire Police, said: "With the problems we've had historically, it's something we're keen to curb.
"It's a link, if they need us, we're on the end of the radio, but it's the boost to confidence in the area that I think we've done."