Body of 'murder' victim Paul Brady not found, court told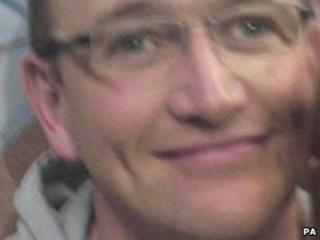 A site manager, who lived a double life as a drug dealer, was murdered and his body was never found, a court was told.
Paul Brady, 43, had been lured to an ambush at a site in Bacup, Lancashire, said Richard Marks QC, prosecuting.
At Liverpool Crown Court, Paul Devalda, 35, of Manchester, denied murder and his girlfriend Stacia Crossley, 28, denied assisting an offender.
A third person, Heath Bowling, 38, of Stockport, denied perverting the course of justice.
Mr Marks said father-of-four Mr Brady, from Rochdale, had just taken delivery of £350,000 worth of cocaine a few days before his disappeared.
The prosecution alleged a reported act of vandalism on an empty property on the site he managed, Lynns Court, in Weir, had been a ploy to get him to the site.
Next day when he arrived with a joiner at the development on 1 August 2009, a masked gang of 10 to 15 men armed with metal bars, baseball bats and a shotgun attacked him.
The joiner escaped but Mr Brady was bundled into a van and never seen again.
The case continues.