The Labour Party calls for shale gas drilling halt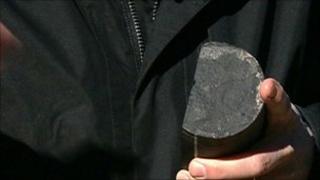 The Labour Party has called for a temporary halt to drilling for shale gas while its safety is checked.
Shadow energy minister Huw Irranca-Davies has called on the government to put it on hold in England and Wales.
Shale gas exploitation is beginning in Lancashire but campaigners have raised concerns that the extraction process can contaminate local ground water.
The gas is formed from deposits of mud, silt, clay and organic matter, and methane from coal beds.
It is extracted by a process called fracking, which involves the hydraulic fracturing of the ground using high-pressure liquid containing chemicals to release the gas.
'Environment problems'
The gas is held in a vast bed of rock called the Bowland Shale which runs from Clitheroe to Blackpool.
A documentary, called Gasland, which has been Oscar nominated, has claimed some residents in the US where drilling for shale gas is already taking place can set fire to their drinking water and have become ill because of pollution by gas and chemicals.
Mr Irranca-Davies has written to energy minister Charles Hendry and energy secretary Chris Huhne urging them to put a temporary halt on extraction of shale gas and coal-bed methane while the Energy and Climate Change Committee completes its inquiry into the issue.
He said: "This form of energy production is new to the UK, and may well have potential for our future energy security and affordability.
"But ministers cannot turn a blind eye and sacrifice our natural environment, or compromise on our climate change targets.
"Ministers are in danger of being caught napping by a surge of applications by companies eager to exploit this potential energy source.
"If we are to avoid the environmental problems caused by some operators in other countries, the government must assure itself, the public, and industry that the right regulatory framework and environmental safeguards are in place."
Mark Miller, chief executive of Cuadrilla Resources, which has started drilling for shale gas in Lancashire, said: "Cuadrilla welcome Mr Irranca-Davies' view that shale gas may well have potential for our future energy security and affordability."
He said the company has asked for a meeting with Mr Irranca-Davies.
"We would be delighted to show Mr Irranca-Davies around our sites so that he can witness at first hand the best practice procedures we have in place," he added.