Japanese spider crabs arrives at Blackpool Sea Life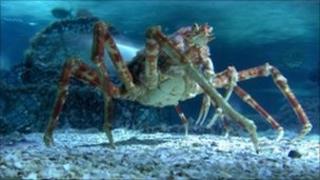 Blackpool Sea Life centre is taking delivery of the world's largest species of crab.
Japanese spider crabs, which can have a leg span of 4m (13.12ft), will be featured in a new exhibition at the aquarium.
The display, which opens at Easter, has been designed to provide an insight into the life of crabs.
Japanese spider crabs are found in the Pacific in 1,000ft (300m) deep waters but have been found at deeper levels.
Manager of Blackpool Sea Life Jenn Newton said: "The Japanese spider crabs are a fantastic addition to the family of sea life exhibitions we have here in Blackpool.
"Visitors can also see the colossal coconut crab, which gets its name from actually being able to crack open coconuts with its huge claws."