Locked-in Blackpool FC coach's family 'hopeful'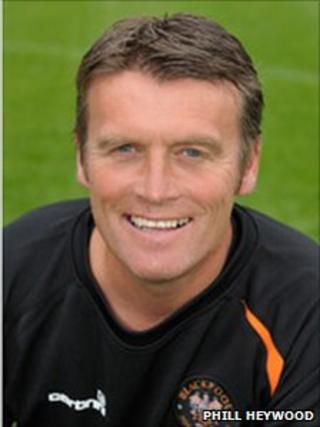 The family of Blackpool football coach Gary Parkinson, who is suffering from locked-in syndrome, say they are hopeful he will recover.
Mr Parkinson, 42, has been unable to move, speak or swallow since he suffered a stroke in September last year.
His wife, Deborah, said they had been boosted by good news from his doctors.
She explained: "We've been told that Gary probably will make sounds and speak again."
"Let's hope one day he will be able to speak to us again," she said.
The school-teacher, who has three children with the former Preston, Burnley and Blackpool footballer, said: "We're trying to look at the positives.
"He's always has been a fighter, always given 110% and I don't doubt for one minute that will change."
She recalled there was no warning signs leading up to his stroke.
"He'd been to work as normal that day, came home in good spirits and we had friends round. He was planning his next day at work and was quite upbeat... then off he went to bed.
"Gary woke up with a severe headache and he hasn't really spoken to us since that day back in September."
Mrs Parkinson continued: "I was getting ready for work the next morning and he woke and said he had a real heavy headache; a strange headache.
"He described it as being on the waltzers at the fair. He said, 'I feel like the whole house is spinning round'."
She called an ambulance and he was taken to Royal Bolton Hospital. Within 24 hours, Mrs Parkinson said he was in a coma and was put on a ventilator.
"Two days later we were told he had a brain stem stroke and it had resulted in the locked-in syndrome and left him completely paralysed apart from his eyes blinking," she said.
Mrs Parkinson said the family were "coping really well" thanks to the "tremendous support" they had received from friends.
Mr Parkinson began his career at Everton in 1985 before moving to Middlesbrough and Bolton Wanderers prior to stints at Lancashire clubs.
He scored the winning goal in Burnley's division two play-off against Stockport in 1994.
As well as coaching at Bloomfield Road, he also did football commentary for BBC Radio Lancashire.