Flax Lane Burscough gets flat pack bridge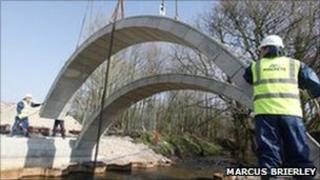 Work has started on the construction of a £410,000 flat pack bridge on Flax Lane, Burscough.
The Flexi Arch bridge developed by Queen's University Belfast and concrete specialists Macrete, is the first of its kind to be built in Lancashire.
The bridge, which runs over Abbey Brook, will take just four hours to install, a council spokesperson said.
It replaces the original structure which was deemed too weak for traffic to cross and closed in April.
Once installed, the bridge will then be brick faced to look like the original one which was more than 160 years old.
Macrete project engineer, Abhey Gupta, said the arch bridge, which was the brainchild of Professor Adrian Long eight years ago, is unique.
Mr Gupta said: "It is easy to transport as it is flat packed and it doesn't contain steel therefore it won't rust so has a lifetime of a minimum of 120 years."
The bridge is scheduled to reopen by mid June.