Blackpool 'has potential to be top family resort'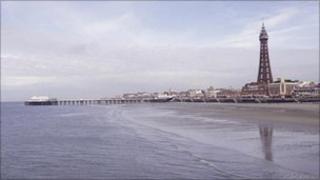 Developers behind some of Blackpool's main tourist attractions have said the town has the potential to become one of Europe's top family-friendly resorts.
Merlin Entertainments, which operates the Sea Life centre on the promenade, is helping the council to redevelop the iconic Blackpool Tower.
The company said work was going so well that part of the tower would reopen in time for this year's illuminations.
Blackpool Council said the tower was "at the heart of its tourism strategy."
On 1 September, the tower top observation platform will reopen as the Blackpool Tower Eye.
The platform will have a new extended glass floor area and a 4D cinema, showing visitors a bird's eye view of Blackpool through the seasons.
The Blackpool Tower Dungeon will open, with exhibits including details of the Pendle Witch trials.
'Ambitious proposal '
The Tower Ballroom roof will also be fully restored by September.
Merlin said entrance to the tower will be free, with all visitors able to enjoy the beautiful building and only pay for the attractions they want to visit.
Speaking in Blackpool on Tuesday, Merlin Entertainments' global CEO Nick Varney said: "Only last week the Government launched its tourism strategy, one element of which is to encourage visitors to the UK to see beyond London, and to experience some of the other wonderful elements the UK has to offer.
"Blackpool and the North West should be at the heart of that policy.
"A measure of Merlin's own commitment to the region is that by 1 September we will be operating no less than seven attractions here in Blackpool - more than anywhere else in the UK, even London."
Council leader Peter Callow said: "I knew we had to take action to stop the decline of this magnificent building.
"It was essential to restore this national treasure and bring it back to its former glory.
"It was imperative to put the Tower at the heart of Blackpool Tourism strategy - saving and creating jobs - ensuring family visitors continue to come back to Blackpool."
He added: "The council taking ownership of leisure attractions was a very ambitious proposal and we are delighted to have Merlin here in Blackpool operating the Tower."
Mr Varney also unveiled a waxwork of the entertainer Bruce Forsyth, known for his appearances at the Tower Ballroom for Strictly Come Dancing.
The waxwork is part of the new Madame Tussaud's attraction due to open next month.