Body of Blackpool stroke victim flown from Thailand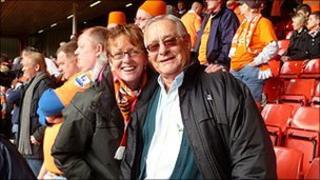 The body of a Lancashire man who died in Thailand after an insurance mix-up has been flown home.
Philip Blakemore, 76, from Blackpool, suffered two strokes while on holiday but a mistake on his travel insurance form meant his medical bills were not covered.
The family raised thousands of pounds to bring him home, but Mr Blakemore died before they could do so.
His son-in-law, Phil Green, said the family now had "closure".
Mr Blakemore was on a three-month holiday in Thailand with his wife Vera when he fell ill in January.
'Humanitarian side'
He had failed to mention on his travel insurance form that he suffered from angina, which meant his medical costs were not covered.
His family raised £26,000 towards his hospital bills and an air ambulance, but Mr Blakemore died in February before he could return home.
The family faced an anxious wait to hear whether the Thai hospital in Pattaya would deem the money enough to fly his body home.
Mr Green said: "They had the money, they held all the aces, and we were just pleading to their better nature, their humanitarian side to repatriate him back to Britain."
Mr Blakemore's body was returned to Blackpool on Saturday and a funeral will be held on Tuesday 15 March.
Mr Green said of his wife and her family: "They can get over the hurt of it all now and actually grieve for him, let him be laid to rest peacefully and they can get on with the rest of their lives."