Teenagers share Lancashire Young Citizens of Year prize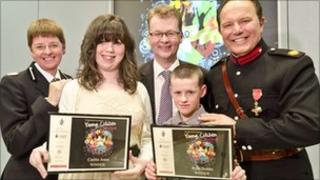 Two teenagers have been named joint winners of the Lancashire Young Citizen of the Year Award.
Caitlin Jones, from Darwen, and Ryan Stubbs, from Preston, received the awards at a ceremony on Wednesday.
Fourteen-year-old Caitlin was recognised for her charity work and caring for her widowed mother despite being born with serious health issues.
Ryan Stubbs, also 14, was honoured for his support of a blind classmate.
'Helping others'
Caitlin, who was born with sensory impairment and serious heart problems, has raised £10,000 for charities including Cancer Research UK, Marie Curie and East Lancashire Hospice.
Pc Vanessa Rushton, who nominated her, described her as "an exceptional girl" who "tirelessly channels her energy into helping others".
Ryan, a pupil at Christ the King Catholic Maths and Computing College, was recognised for helping Amir Patel join in activities.
Teacher Damien Callagher said the keen sportsman would forego his chance to win in inter-school cross country events and school sports days so that he could run with his friend and guide him to the finish.
The winners received £250 plus a trophy and certificate.