Life sentence for man who murdered Blackburn pensioner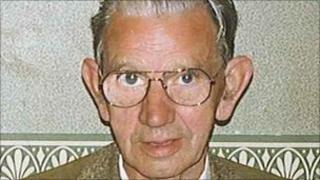 A killer who bludgeoned an 89-year-old war veteran to death with a hammer has been jailed for life.
Stuart Young, 23, of no fixed abode, admitted murdering Albert Fielding at the pensioner's flat in Limefield Court, Blackburn, on 22 October.
He disturbed the pensioner while he was sleeping. The attack was so severe it smashed Mr Fielding's skull, with parts of it found embedded in his brain.
A judge at Preston Crown Court recommended he serve at least 28 years.
'Craved company'
Mr Fielding, a retired sheet metal worker who served with the Royal Engineers during World War II, still lived independently despite his age.
But he craved company and friendship after the death of his wife, Dorothy, nine years ago.
He had an open house policy, never locking his door, welcoming everyone and giving shelter and money to homeless people, the court heard.
He was warned by his family and police about letting strangers into his home as he came to be seen as a "soft touch" by some who preyed on his kindness, dossing at his house and borrowing money but rarely paying it back, the court was told.
After his murder, his daughter Dorothy Doyle said: "I thought, 'They had finally got him'. He was a lovely man and his kind nature meant he would help anyone.
"He still believed he could protect himself. I often reminded him he was not as young as he used to be. I told my father something serious would happen."
Footprint and DNA
Judge Anthony Russell QC, sentencing Young, said: "This was a frenzied attack on a helpless old man.
"It was a particularly brutal killing in the repeated use of a hammer as a weapon."
Young had been released from prison two weeks before the killing.
While serving a sentence for burglary and assault he met a prisoner who knew Mr Fielding and took Young to visit him.
Mr Fielding's body was discovered on his sofa by a neighbour.
He had suffered at least six heavy blows to the head. A hammer and his wallet, emptied of £160, were found on the floor nearby.
'Fuelled by greed'
A footprint and DNA left at the scene linked Young to the crime and he was arrested soon afterwards.
While on remand, Young confessed to the murder during a prison visit from his mother. He said: "I don't know why. I can't remember doing it. I was off my head on drugs."
Mr Fielding's daughter said after the hearing that her father would have helped Young if he had asked him to.
"Albert would have quite happily given Stuart Young money if he had asked for it, because that was the sort of person that he was, but we feel that his murder was fuelled by greed.
"The injuries he suffered were catastrophic and he did not deserve to die in such a way."