Duke of Lancaster sergeant 'humbled' by parade praise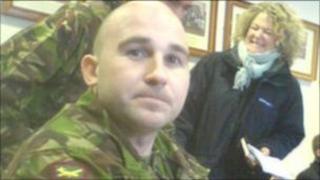 A sergeant with the Duke of Lancaster's Regiment has spoken of his pride at being commended when his regiment was granted freedom of the Ribble Valley.
Sgt Rick Clements from Chatburn, who lost both his legs in a blast in Afghanistan, got a special mention in Brig Mike Griffiths' acceptance speech.
He joined the battalion's march through Clitheroe on Thursday.
Sgt Clements said of being singled out for praise by the regiment's colonel: "It makes you feel quite humble."
He added: "I don't like to think of myself as any [different] to any of the other guys who have all done the same job and been out to Afghanistan."
His family and friends were among the thousands who turned out to celebrate the regiment being granted the freedom of the borough.
'Wrong spot'
The 31-year-old said: "I'm so proud to be here. I wouldn't have missed it for the world; I'd have crawled here."
Sgt Clements was on a routine foot patrol in May when he stepped on what he describes as "the wrong spot".
"Fortunately, for the rest of my patrol there was only one slight injury to another guy.
"We were quite lucky in the respect that it was just me that took the blast."
He said his army training has helped him stay positive since the explosion. "I don't it has affected me that bad.
"I think 14 years in the army has taught me to be fairly self-confident and assured and give me that mentality that you just get on with things.
"The way I look at it, I'm lucky to be alive still and I've got to work on that and go on from there."
He is currently undergoing rehab. "Hopefully I will be able to walk at some point using prosthetics and get back to somewhat normal life."
As well as walking again, he is also looking forward to getting married on 4 June.
"The future is bright," he added.