Blackburn Diocese's Last Supper game set to go national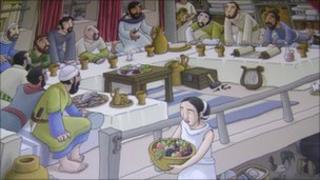 A religious educational tool based on a game developed in Lancashire looks set to be adopted by diocese nationwide.
The Last Supper is the inspiration for the resource which has been created by a team from the education department of the Blackburn Diocese.
Helen Sage from the department said: "It's a way of freshening up Lent, Holy Week and Easter lesson plans."
The Blackburn game is the result of a collaboration with artist Si Smith.
He recently adorned the front page of the Church Times and now his modern interpretation of the traditional Last Supper meal, which Jesus and his disciples ate before the crucifixion, is used as the centre piece of the game.
Modern day issues
Ms Sage explained: "It's a contemporary expression of the Last Supper on two levels.
"The meal is taking place on the upper room. Below we've got busy people, children playing, animals running around and even some people asleep.
"They are producing the food which is being carried up by a wonderful waitress to Jesus and his disciples."
Each of the images in the picture are replicated on playing cards which are used to stimulate religious, ethical and moral discussions about the whole of Jesus' life.
Ms Sage continued: "For instance there are some keys in the picture. Whoever gets the card with a set of keys depicted on it will have to find the keys on the Last Supper picture.
"Then we will ask what those keys may mean. How will they be used? What are they in relation to Jesus life? How do we use keys today and so on... it can lead us into some really interesting and moral areas that are relevant to today."
There are various ways of playing the game and Ms Sage said each one should lead the players into discussing modern day issues and beliefs.
The game, which is officially launched at Easter, is aimed at any group that wants to develop a better understanding of of a wider religious events and themes.
Carole Williams from the education department said: "It's a stimulus to talk about Jesus' life.
We have some freshens, educational aids, to support the game and we aim to use bits of the picture to encourage wider discussions."
The resource also includes lessons plans and other material to develop better understandings of Jesus' life.
Susan Witts, assistant director of Children's Work at the Blackburn Diocese, and Ms Sage were amongst the group to unveil the new facility at a children's conference in Blackburn.
Ms Sage said: "It's now going out to all our schools. Our churches are also interested. It's getting national interest and will be going into youth groups, Sunday schools and universities."
The diocese are very hopeful that their work will also be seen abroad.
"We've got link diocese abroad in Bloemfontein and in the Far East [and] we are hoping it will go to them.
"There is a party coming over in the near future and we will be showing them we have developed," added Ms Sage.
Joe Wilson presents the faith programme on BBC Radio Lancashire from 6am each Sunday.