No decisions made on Lancaster Castle prison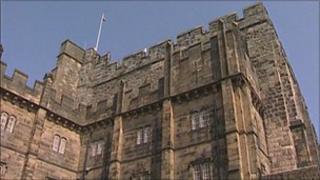 Lancaster Castle prison is closing at the end of the month but its future use may take three years to be determined.
The Ministry of Justice (MoJ) gave official notification of closure this week to the Duchy of Lancaster which owns and protect it for the sovereign.
The Grade I listed building is being leased by the MoJ for the next three years.
During that time the Duchy of Lancaster will look at the "long term and sustainable uses" for the building.
'Commercial asset'
Once all the prisoners have been transferred at the end of March, the Duchy of Lancaster's surveyors will start investigating the site and speaking to interested private investors as well as the local council and MoJ as to the future of the medieval prison.
Both Lancashire County Council and Lancaster City Council have high hopes for the landmark.
In a joint statement, a spokesman said: "It has the potential to be transformed into a major tourist attraction which could attract significant complimentary private sector investment."
However, the Duchy of Lancaster's chief executive, Paul Clarke, said turning the building into a complete tourist attraction may not be feasible because of its size.
Mr Clarke said: "I think we need to look at a mixed used scheme... to ensure it has vitality and life at night and during the day.
"I think the building is so important and has such potential but we have to look at it as a cold, commercial exercise."
He added: "Clearly, it is an iconic building and we want to ensure, from the Duchy's point of view it remains a commercial asset and provides us with an income but also that it enables a degree of access to the public and can be used as part of the city."
The Ministry of Justice confirmed in January the castle prison would shut, saying it was "outdated" and too expensive to keep running it as a prison.