Burnley man guilty of drug dealer Paul Brady's murder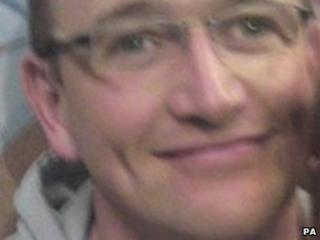 A man from Lancashire has been convicted of the kidnap and murder of a drug dealer in a "criminal vendetta".
Paul Devalda, 35, of Burnley, was found guilty at Liverpool Crown Court of killing Paul Brady, 43, of Rochdale.
Mr Brady had taken a delivery of £350,000 worth of cocaine a few days before he was lured to an ambush site in Weir, Lancashire, in August 2009.
The body of the 43-year-old, who led a double life as a site manager, has never been found.
'Extremely dangerous'
Mr Brady had been lured to Weir by a reported act of vandalism on an empty property he managed in Beaufort Road.
When he arrived a masked gang of 10 to 15 men armed with metal bars, baseball bats and a shotgun attacked him and bundled him into a van. He was not seen again.
Det Supt Neil Hunter, who led the investigation, said: "There was no doubt that this was a pre-meditated and well planned offence committed by a travelling organised crime group who are extremely dangerous, ruthless and violent criminals.
"This was a criminal vendetta kidnap and should be a strong warning to any individual who chooses to get involved in such criminality."
John Dilworth, head of the Crown Prosecution Service (CPS) Complex Casework Unit said: "Paul Devalda has shown himself to be a cunning and manipulative man.
"However, due to the meticulous investigation by the Lancashire police and tireless attention to detail by the whole of the prosecution team the jury have been able to see through his tissues of lies.
"Our thoughts today are with Mr Brady's family and loved ones, who have gone through this terribly traumatic process with the utmost dignity."
The police and Mr Brady's family have now appealed for anyone who might know where his body is to come forward.
Officers described it as a "wicked concealment" which served no purpose but to cause the victim's family pain.
'Deafening silence'
Mr Brady's sister Joanne said: "Paul's disappearance has left an incredible void in our family.
"Where once there was laughter and fun with a fantastic guy this has now been replaced by a deafening silence, pain and devastation.
"Paul will be missed by all his friends and family and we feel incredible sadness at not being given the opportunity to put him to rest."
Heath Bowling, 38, of Stockport, has been found guilty of perverting the course of justice.
Stacia Crossley, 28, of Padiham Road, Burnley, was charged with assisting an offender. The jury failed to reach a verdict and the judge ordered they be discharged.