Burnley man's life sentence for Paul Brady's murder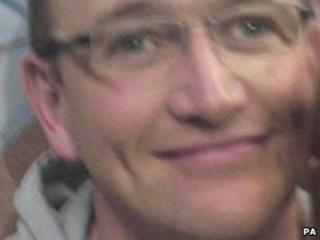 A Lancashire man has received a life sentence for the murder of a Rochdale drug dealer who had been kidnapped.
Paul Devalda, 35, of Padiham Road, Burnley, was found guilty of murder and conspiracy to kidnap after a nine-week trial at Liverpool Crown Court.
He was jailed for a minimum of 21 years for murder before he will be considered for parole, and also given a concurrent sentence of 14 years for kidnap.
Paul Brady, 44, was kidnapped in August 2009. His remains were never found.
The cocaine dealer, who led a double life as a site manager, was taken from the Beaufort Road area of Weir, Bacup, Lancashire.
'Wicked offence'
He had taken a delivery of £350,000 of cocaine a few days before he was lured to a property in Bacup that he managed by a hoax call about vandalism.
Det Sup Neil Hunter said: "Devalda managed for a short while to stay on the run, but little did he know that day by day the net was closing in.
"When we established that he was down in London we contacted our colleagues in the Metropolitan Police and with their assistance he was arrested and brought back to Lancashire.
"An aggravating feature of this wicked offence is the concealment of Paul's body and to this day, and despite extensive inquiries and searches, we have been unable to find him.
"In view of today's conviction, every decent law-abiding person would expect Devalda to tell us where he is, if he knows, so that we can recover his remains for the sake of Paul's family, but I remain to be convinced he will do so.
"Paul's family have come to terms with the fact that he is dead, but without a body they have been unable to hold a proper funeral for him.
"Devalda is an extremely dangerous individual who was motivated by greed and financial reward.
"He is a coward, as there were in excess of 10 offenders who were in possession of a multitude of weapons including firearms, knives and metal bars, who were responsible for this offence."
John Dilworth, head of the CPS Complex Casework Unit, said: "Due to the meticulous investigation by Lancashire Constabulary and tireless attention to detail by the whole of the prosecution team, the jury has been able to see through Devalda's tissues of lies."
An accomplice of Devalda, Heath Bowling, 38, of High Lane, Stockport, was found guilty of attempting to pervert the course of justice.
He will be sentenced at a later date.