Swedish probe into Denise Hendry botched-op surgeon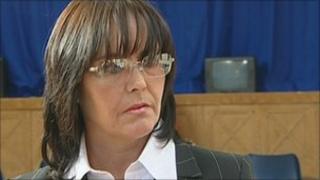 A doctor who carried out botched cosmetic surgery on the wife of former footballer Colin Hendry is being investigated in Sweden, it has emerged.
Denise Hendry's bowel was punctured nine times in a liposuction operation in Lancashire in 2002. She died in 2009 during surgery to correct the damage.
Gustaf Aniansson is still practising in his native Sweden, where a woman has complained about him.
The surgeon was unavailable for comment when the BBC tried to contact him.
Sued by 16 women
Mrs Hendry, who grew up in Dundee but later settled in Lytham in Lancashire, died after bacteria spread from her stomach to her brain causing meningitis, an inquest heard.
Giving a narrative verdict, coroner Jennifer Leeming cited brain inflammation, blood clotting from a drain inserted into her head to relieve pressure and meningitis as the medical cause of death.
The mother-of-four had undergone the "routine" cosmetic surgery performed by Mr Aniansson, at the private Broughton Park Hospital near Preston, Lancashire.
She had a series of operations to correct the damage, and it was during one such "high-risk" 16-hour operation at Salford Royal Hospital that she died in July 2009.
Mrs Hendry was one of 16 British women who successfully sued Mr Aniansson, the BBC has learned.
He had to pay out a total of £750,000 in damages.
The BBC has seen a report by the National Care Standards Commission which described her injuries as the result of sheer clumsiness.
Mrs Hendry's lawyer Stephen Jones told the BBC he had notified the Swedish authorities of this but they had not acted on the information.
"We told them everything that we knew about him. We told them all about the 46 women who had come forward, the 16 successful cases, what had happened in Denise's case.
"We quoted from medical reports that we had and we basically said this man is a danger and he needs to be investigated.
"We have had no further contact from the Swedish authorities since."
Removed from register
But Per Anders Sunesson, Sweden's National Board of Health and Welfare, said if they had the information in 2002, and had carried out an investigation, they may have been able to revoke his licence.
"But when the time passes like this, seven years, and there has been no major incidents in the seven years, can you revoke his licence? The court in Sweden would say no in this case," he said.
However, the board is now investigating a complaint from a Swedish woman who had cosmetic breast and stomach surgery.
Mr Aniansson voluntarily removed himself from the General Medical Council's register to practise in 2003.
In 2008, the council changed its policy so it now notifies its counterparts around the world if a doctor requests to be taken off the register.