Morecambe asks residents for help to 'resurrect' town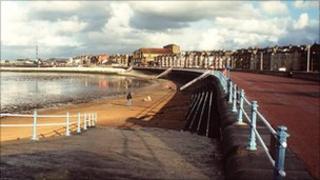 Morecambe needs a defined town centre to restore it to its former glory, Lancaster City Council (LCC) has said.
Senior planner at LCC, Julian Inman, said being unable to establish the heart of the town was holding Morecambe back, particularly to investors.
He said it was "half-starved of investment" because the centre was so fragmented.
The authority is drawing up an action plan to "reinvent" the resort and asking locals to help.
Concentrate on best assets
Mr Inman said: "People tend to arrive and not stay very long and do one or two things and go again.
"The town tends to disperse people... most towns which we think are successful tend to concentrate people on their best assets and this one doesn't.
"We need people to come here and stay longer and spend a bit more and for us that is about us directing people to where the best places are to go to."
He continued: "If we can do that [Morecambe] can become more attractive to private operators and investors which the town desperately needs.
"We have a lot to do... but we are really quite excited; this place is fantastic and it has huge potential."
Mr Inman said the public had a role in helping, and the authority was waiting to hear residents' views on revamping the town.
Residents have until 1 April to put their views forward to the Morecambe area action plan.